Henri Eliot: Roger Sharp on corporate governance
By Henri Eliot
9:21 AM Monday Aug 10, 2015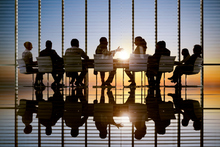 A great board has an alchemy of complementary skills, says Roger Sharp.
Roger Sharp has 30 years' global experience financing, advising and running growth companies. He is currently Chairman APD and a Non-Executive Director of Webjet and several private technology companies.
Roger Sharp talks to Henri Eliot in Singapore about his perspectives on corporate governance and the digital disruption.
Read more:
• Mai Chen on corporate governance
• Joan Withers on being a professional director
1. How has your life experience made you the leader you are today?
The expression "leader I am today" implies that the end of a journey, or some form of pinnacle has been reached. It's not an expression I'd readily use.
My experience is that leadership is a perpetual work-in-progress. We are the sum total of our decades of experience, both good and bad. The trick is to recognise and learn from one's failures, not to repeat them, and to replicate the successes. We are only as good as the last job we did.
In my career I've lived and worked in 8 international cities and that has taught me to be accepting of others, to try to act with humility, and to learn from every situation.
I've been fortunate to run businesses through the 1987 Crash, the Asia Crisis, the Tech Wreck and the Global Financial Crisis. Hardship shapes your perspective.
2. What do you think distinguishes a "great" board from a "good" board?
A great board has an alchemy of complementary skills. It should be diverse in composition, recognising that people who look the same and come from similar backgrounds probably all think in a similar way – getting different perspectives is vital.
Great boards have an unconditional preparedness to debate the hard issues. I'm sometimes quite amused by the level of constructive confrontation on one of the boards I sit on – all aimed at reaching the truth. Long may it last!
A great Board always challenges the status quo. A little paranoia goes a long way – paranoia about competition, about disruption, about customer service standards, and so on.
3. What levers have you seen boards use effectively to drive organisational performance?
We live in disrupted times. Never before can I recall a time where innovation, ubiquitous and cheap mobile computing power have the power to both streamline and disrupt business so profoundly. So, I suspect the answer to this question depends on whether the organisation in question is a defender of the status quo, or a challenger.
Challengers relish the challenge of knocking off an incumbent. Their people become motivated by the challenge, by the team environment and the empowerment of taking on a massive, disruptive challenge. It's vital to give disruptors the freedom they need to think outside the box without the interference of age old thinking. These companies are in all likelihood startups and their boards need to mentor rather than micro manage them, putting appropriate governance in place and helping to raise funds.
Defenders, on the other hand, respond in a completely different way. Typically, large companies don't know how to defend their positions. Those who manage to use a variety of techniques. Some establish a "skunkworks" to build a disruptive programmer in secret. Others do it in plain view. In all cases they need to report to someone in authority.
Above all, the most important organisational lever is to secure the buy in of the senior leadership of the company. Those who approve the use of capital must buy in to the programme.
Finally, equity drives commitment. People with skin in the game tend to go the extra mile. I am a big non-believer in the assertion that independence, free of equity, is a good thing. It's sheer bunkum, especially in small caps.
(Footnote – it has to be noted, there isn't always a correlation between having a shareholding and being a great performer!)
4. What skill sets are boards missing today?
By and large, boards lack the skill and experience to deal with digital disruption. Technology skills, and an understanding of the Internet, are now being used daily to completely undermine established business models. So, boards need to tune up their digital skill base, and quickly.
5. What do you think are some of the emerging challenges that boards are likely to face over the next decade?
There are many influential factors to be aware of, e.g. the ageing population, climate change and so on – but in my experience, the most immediate threat is from digital disruption.
6. What should boards do about this digital disruption?
It's the defining question for many companies today.
Each situation is clearly different. I suggest you start by raising the importance of digital disruption on your company's strategic agenda. Speak to your management team. Speak to your Chairman. Recruit at least one digital native onto your board. Get a digital mentor for your management and Board. Identify what the precise implications could be for your industry. Look for early signs from other markets.
Whatever you do, get it on the Board agenda, and win over your Chairman. If you don't, your future could well look more and more like Kodak or Nokia.
By Henri Eliot
Copyright ©2015, NZME. Publishing Limited