Henri Eliot: Joan Withers on being a professional director
By Henri Eliot
9:30 AM Monday Dec 15, 2014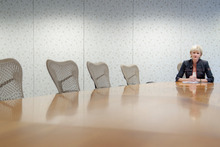 Mighty River Power chairwoman Joan Withers.
What do you think distinguishes a great board from a good board?
Composition is critically important – having the right mix of skills, experience, industry and institutional knowledge.
But even an optimally constructed board must operate within a culture that encourages rigorous discussion and debate. That underscores the need for board leadership that insists on appropriate behaviours and ensures that the board has access to the information it needs to assist its decision making. In today's environment any form of board dysfunction is untenable as is deliberately manipulated information asymmetry between management and the board.
Chairs and individual directors need to have a strength of character that means they operate from a base of integrity and are influenced by what is in the best interests of the Company rather than self interest. And a laser sharp focus on what drives long term shareholder value.
All boards need to review their performance and most boards of large companies now have a process for regular formal review of the board dynamic and the contribution of each of the directors.
Appointing the CEO is one of the most important decisions a board has to make. It would be very hard if not impossible for even a top flight board to lead the company to sustainable success without the right executive team.
What are some of the levers that you have seen boards use effectively to drive organisational performance?
Appointing the right CEO and ensuring direct reports are assisting and amplifying his or her efforts to grow long term shareholder value is fundamental. Designing a remuneration structure for the CEO and leadership team that ensures they focus on the critical value drivers over the appropriate time frame is an area where boards and remuneration committees spend a significant amount of time and energy.
Strategy development is an area which in my experience is evolving. Some of the larger NZ corporates are now employing external facilitation for their strategy sessions. This is not about engaging consultants to tell the management team how to run their business, but using highly qualified experts who tend to come from a BCG or McKinsey type background and who can elicit the wisdom from within the business and utilise the appropriate frameworks to describe strategic options, refine, qualify and quantify those options, and assist in the construction of execution plans that describe the risk and challenges inherent in achieving success.
I see more focus on brand, customer and the implications of disruptive technology around board tables today. We all know the rate of change is accelerating rapidly and that traditional business models are being seriously challenged. In most industries staying the same is not an option – so much more focus on what competencies are going to be required going forward.
Strong organisational performance can only happen with people who are committed, so more companies are walking the talk now in terms of people management and reviewing internal organisational culture through regular engagement surveys.
What are some of the more challenging aspects of being a board Chair?
I have had the privilege of chairing two great New Zealand companies. Leading Mighty River Power through the IPO in 2014 was challenging, but enormously rewarding.
The job of Chair is infinitely easier if you have a CEO, management team and board that is operating at an optimal level. If that is not the case then effecting the necessary change can be extremely difficult.
Outside of board meetings, the Chair has the ongoing contact with the Chief Executive. Providing support, feedback and fronting the media and external agencies where governance issues are involved especially in difficult circumstances can be challenging, but my personal belief is that the Chair should not just be fronting good news, but must be prepared to stand shoulder to shoulder with the CEO when the circumstances dictate.
What do you think are some of the emerging challenges that boards are likely to face over the next decade?
The impact of disruptive technology will be pervasive. A recent McKinsey report details the implications of new technologies and scientific breakthroughs. These include mobile internet, 3D printing, the Internet of Things, autonomous vehicles, energy storage, the automation of knowledge work, advanced materials and advanced robotics. Our businesses will be at least impacted if not transformed over the next decade. The societal impacts will also be significant.
What should directors in NZ worry about in 2015?
As a director, there is always something to worry about – it is an occupational hazard!
I am very keen to see NZ maintain a stable and consistent approach to regulation which provides assurance for business initiatives and confidence for potential investors.
The new Health and Safety legislation, when passed, should assist in improving NZ's dire performance in workplace deaths. Directors do need to understand and focus on their responsibilities in relation to health and safety.
I hope the economy maintains momentum and that we see some recovery in dairy prices in the New Year.
By Henri Eliot
Copyright ©2014, APN New Zealand Limited