Dynamic Business: Chairperson of the Year – Tony Carter Air NZ, F&P Healthcare
7:00 AM Friday Nov 28, 2014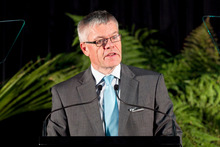 Tony Carter is known to be a strong believer in diversity in the boardroom. Photo / NZ Herald
Tony Carter has made the very challenging transition from chief executive to a career in governance at the highest level with consummate ease.
That's the view of the Top 200 judges who says he has the respect of his fellow directors — not just at the high-profile Air New Zealand where he replaced long-time chairman John Palmer in September last year, but also at Fisher and Paykel Healthcare which he has chaired since April 2012.
"He has impressive academic qualifications, and a stellar career in management culminating in the role of CEO of Foodstuffs before retiring to become a professional director," the judges added.
Dame Alison Paterson observed, "The point I would make is that he is both chair of Fisher and Paykel Healthcare, last year's company of the year, and, Air New Zealand, this year's company of the year.
"While Tony would be the first to suggest that the performance is attributable to his predecessors and management, this is nonetheless a special achievement which reflects the contribution he is seen to have made at these companies which both operate in global markets at the highest level."
In April this year, Carter told Henri Eliot in a Herald interview that a good chairman should draw everyone together to create a collaborative team. "They should ensure all voices are heard, summarise the key points and bring the decision to a clear conclusion.
"An effective chair allows some debate but limits the voices that go round and round, which eventually creates unproductive board meetings.
"The best boards from my experience are collegiate, open to challenge and debate coupled with an experienced chair."
At Air NZ, Carter has played a strongly supportive role to CEO Christopher Luxon who slipped into the shoes of his colourful predecessor Rob Fyfe in January 2013. At Fisher & Paykel Healthcare, Mike Daniell has been CEO since 2001.
Notably Carter has brought new female blood forward at both boards. Jan Dawson was appointed his deputy earlier this year.
The formidable entrepreneur Linda Jenkinson has also joined the directors. At F&P Healthcare, another digital entrepreneur Geraldine McBride has joined the board table.
This reflects the fact that Carter is known to be a strong believer in diversity in the boardroom and workplace. He is active behind the scenes in driving diversity in New Zealand business.
Insiders say he also brings a depth of perspective and experience to the boardroom, given his roles in various industry sectors but still finds the time in his hectic schedule to mentor.
He does not seek publicity, but does not shy away from fronting when his boards need him to.
This was notable during the sale of a holding of Government-owned shares in Air New Zealand earlier this year which went smoothly despite the politically sensitive nature of the pre-election sale.
Air New Zealand's successes are recorded on D15 in an article on the Company of the Year. For Fisher and Paykel Healthcare the results have also been stellar: Revenue up 12.3 per cent and profit up 26 per cent to $97 million.
It's not all work. He is known to be a passionate runner and was one of the first to sign up for the inaugural Queenstown marathon, which Air New Zealand is sponsoring, this weekend.
Stylistically, he is a straight (and considered) shooter which is reflected in the judges comment: "Tony Carter is well-respected as a good communicator, an effective operator, and eager to learn.
"He has been a valuable addition to director ranks in New Zealand."
Finalists
Mark Verbiest, Spark and Transpower
Mark Verbiest has some markedly different companies in his governance portfolio.Not only does he serve as chairman of Spark which features in the finalists for this year's Most Improved Performance award but also Government-owned national grid company Transpower.
The judges commented that Verbiest has a "seriously good CV" and is one to watch. At the recent Infinz conference he was a notable contributor pointing to the need to ensure diversity was a priority.
His has been a swift transition to the senior governance table. He served as Telecom's general counsel before becoming a director.
Chris Moller, SkyCity Entertainment and Meridian Energy and the NZ Transport Agency
Chris Moller is viewed as a "seriously good all-rounder" when it comes to top-level governance roles.He is not afraid to "tell it like it is" when addressing issues that chairmen and directors face in today's complex governance world.
Moller had a distinguished career in the dairy industry before moving to high-profile governance roles including with the sporting sector here and internationally. The Meridian Energy float was well-handled and SkyCity Entertainment has ridden through potential minefields on the political front.
Copyright ©2014, APN New Zealand Limited